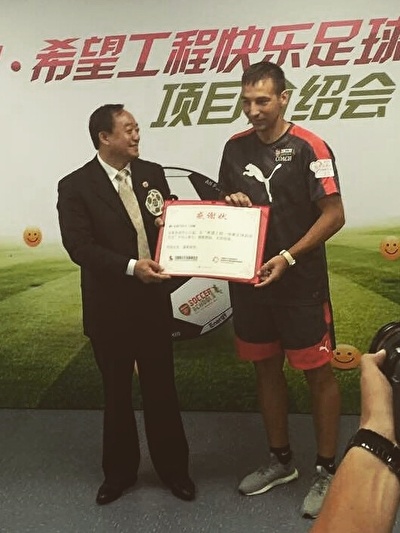 CAREER
Ivan Kurtušić (Serbian Cyrillic: Иван Куртушић, born 28 April 1984) is a Serbian Coach FK. Mačva Šabac

DOWNLOAD MY

Born in Belgrade, SR Serbia, he started to play football when he was 13 years old with the Red Star Belgrade and played there until 2001. Ivan plays the position of midfielder and has often been touted as a box-to-box midfielder for his ability to exert boundless energy in supporting offensive and defensive play.Ivan was member of the national team for Yugoslavia's at the under 15 and under 17 and under 21 level, where he play 19 games List of Serbia international footballers (including predecessor teams). In 2001 Ivan moved to FK Vojvodina.That was important moment because the Club was playing in UEFA Europa League that year and he was youngest member of the squad. In 2002 Ivan made his first professionally contract with FK Sartid when he was only 17 years old. In FK Sartid he took the Serbian Cup in 2004 and play in UEFA Europa League against teams like TSV 1860 München Germany and Ipswich Town F.C. England.In that moment Ivan was in the top 5 young players in Serbia and he made a big step up with signing for French club SC Bastia for a transfer fee around 700.000 euro in 2004.Ivan's first game with SC Bastia was against PSG with Ronaldinho playing, Ivan play last 15 minutes of the game.With only 20 years old he make 23 appearance for first season in France Football League or Ligue 1 highest level of France domestic football. In that moment he play in some team with players like Michael Essien captain of the SC Bastia in that period. Next season, he played for FK Obilić in the Serbian SuperLiga and in summer 2007, he moved to FK Pobeda which had just been the Macedonian First League Champions that season and Runner up of Macedonian Cup competitions. Team was part of UEFA Champions League qualifications against FC Levadia Tallinn.He received the official title of Best foreign player of that season. After his spell in Macedonia, Kurtušić returned to Serbia and during the following seasons he represented a number of clubs, namely FK Obilić, FK Sinđelić Niš, OFK Mladenovac. He was part of Sindjelic squad in what was their biggest success in their history; a fifth place in the Serbian SuperLiga and last 8 in the 2010–11 Serbian Cup. During the winter break of the 2011–12 season, he moved abroad again, this time to Malta by signing with Maltese Premier League team Marsaxlokk FC. He is often referred to as the Bull for his tough tackling style, boundless energy and physical presence on the pitch. In the 2012-13 season he signed a one-year contract with Gudja United F.C. - Malta. He was the first foreign captain in the history of Gudja United F.C. after only two months at the club. He scored 4 goals in 16 games for the team and that was the perfect recommendation for famous Maltese club Zejtun Corinthians F.C. to take him and sign him to the end of the 2012-2013 season. He helped the club to stay in the league that season playing 10 games for them; and that was a big success for the club in a hard year for them. His next career move was signing a contract with a famous club from Bahraini Premier League, named Manama Club, where he signed a one-year deal. In 2014 he got an offer and signed a contract until the end of the season for Sheikh Russel KC in the Bangladesh Premier League last year Champion team.[4] With his new team he was part of the history of football in Bangladesh as a member of the squad in the AFC President's Cup, where the Bangladesh team reached the final round of this competition for the first time ever. In summer 2016 he signed for Eastern District football club in Hong Kong.After a great season, I get a new offerfrom Wong Tai Sin team and I sign a contract for a year. 

In season 2017-2019 i Was a membar of Wong Tai Sin as player and i work as a coach also in this period in Hong Kong and China,
 and on end season 2018/19 i make decision to retired from playing football and only continue coach job.